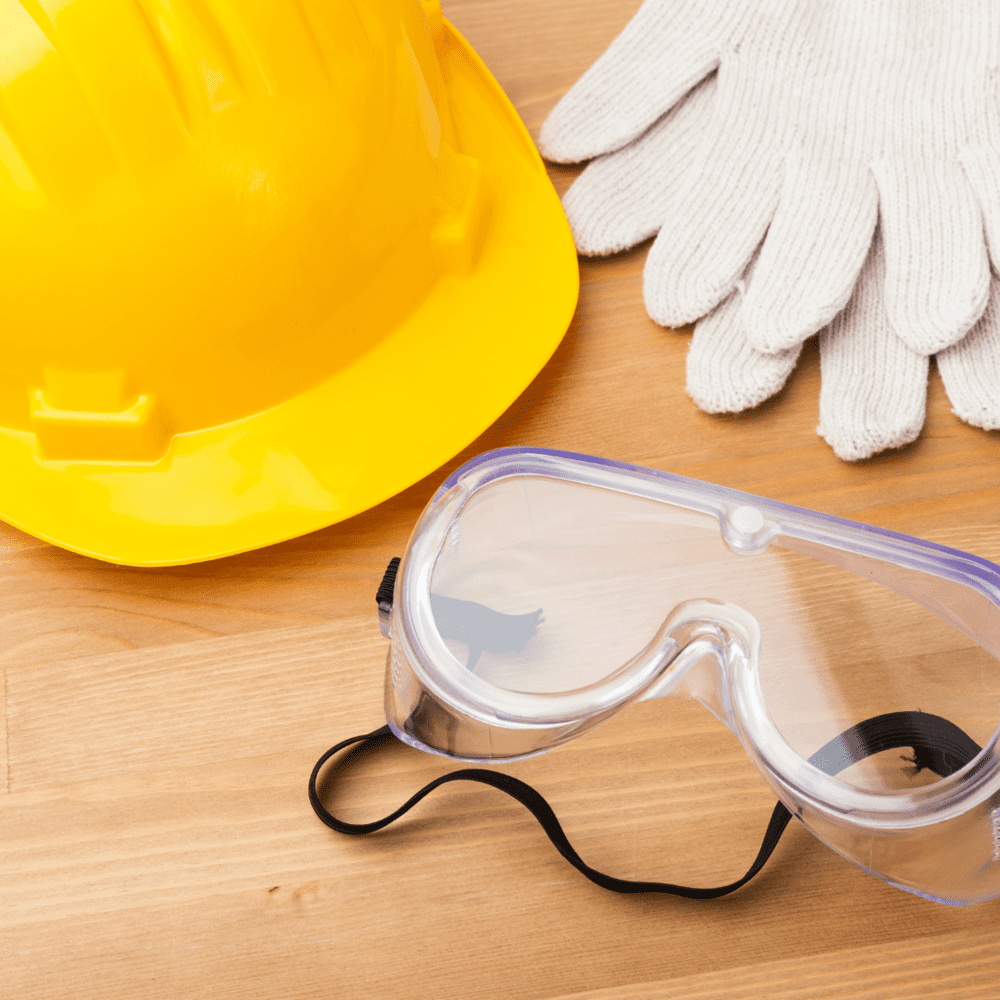 First aid training for employees is an essential aspect of workplace safety. In an emergency, having employees trained in basic first aid can mean the difference between life and death. 
In this article, we will explore the importance of first aid training for employees to stop bleeding and the different types of training materials available.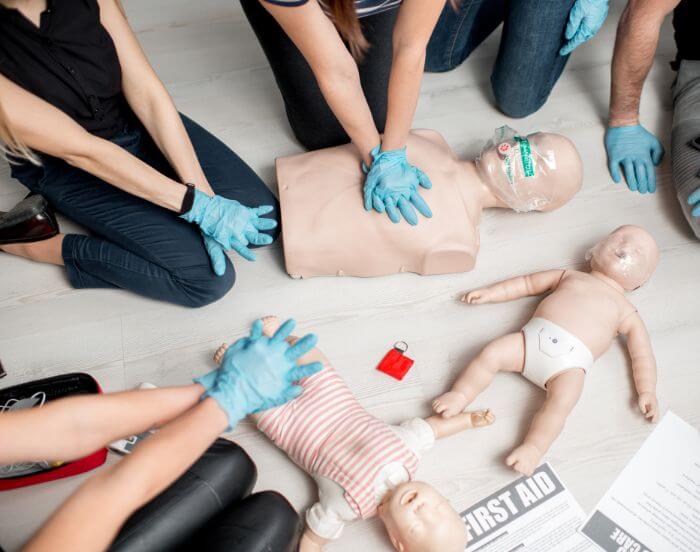 Understanding the Importance of Medical Training
Medical training is essential in emergency situations, but also it's good to know in your daily life. Without it, the ability to properly care for an injured person is greatly diminished. This is why it is crucial for employees to learn from first responders to have at least basic medical training. 
Additionally, every second counts in an emergency, and having employees trained to stop the bleeding can help stabilize an injured person until professional medical help arrives.
Moreover, employees may not know how to properly handle and respond to an emergency without proper training supplies, which can lead to potentially disastrous consequences. It's important for everyone to learn how to use these supplies, even when they are only high school students.
There are plenty of digital materials to learn about first aid, blood loss, and disaster medicine to understand what to do in certain situations.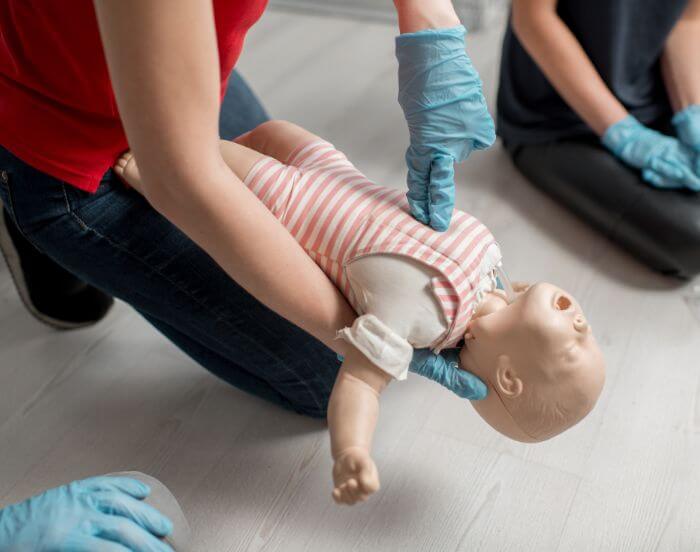 Handling a Life-threatening Bleeding Emergency
Life-threatening bleeding emergencies are a serious concern in any workplace or public setting. These types of emergencies can happen due to various causes, such as an accident, a natural disaster, or an act of violence. Not knowing how to stop bleeding in these situations, for instance, might cause serious injury or even death.
Furthermore, a life-threatening bleeding emergency is characterized by excessive and uncontrolled bleeding that can lead to shock, organ damage, and death if left untreated. 
Trained employees in bleeding control skills are crucial in such situations. These skills include applying direct pressure, tourniquets, and hemostatic dressings. 
First Aid Training for Employees
First aid training teaches individuals how to respond to and manage emergency situations, such as medical emergencies, accidents, and injuries. 
The specific content of first aid training can vary depending on the provider and the level of training. Here are some types of first-aid training:
1. Basic First Aid Training
Basic first aid training typically includes instructions on performing cardiopulmonary resuscitation (CPR), using an automated external defibrillator (AED), controlling bleeding, and responding to choking and other breathing emergencies. 
2. Advanced First Aid Training
Advanced first aid training, such as a trauma first aid training session, may include instruction on recognizing and managing more severe injuries, such as broken bones, head injuries, and severe bleeding. 
3. Specialized First Aid Training
Some first aid training courses also include instruction on responding to specific types of emergencies, such as natural disasters, or providing first aid in particular settings, such as in a wilderness or remote area.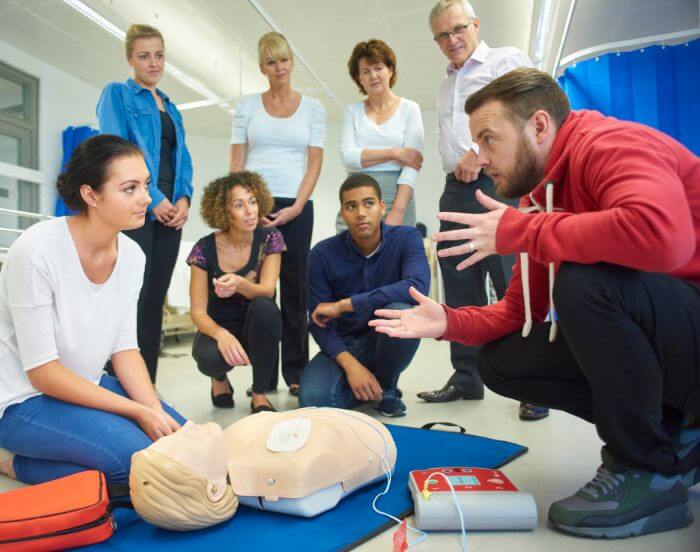 Helping the Injured Person: Trauma First Aid Training
In emergency situations, providing care for the wounded person is of the utmost importance. This is particularly true in cases of severe trauma, such as traumatic injuries caused by accidents, violence, or natural disasters. 
This type of training goes beyond basic first aid and covers the recognition and management of life-threatening injuries, such as a bleed course, severe trauma, head injuries, and broken bones. 
Final Thoughts
It is clear that a first aid trainer needs to teach employees and give training, such as ABC first aid training, first aid trauma training, and CPR first aid training to guarantee workplace safety. Not only does it equip employees with the necessary skills to handle emergencies, but it also ensures the safety of customers and clients. 
Additionally, it is essential to note that different types of first aid training exist, such as trauma first aid training and bleeding control skills, which cater to different needs.  
Employers must take the necessary steps to prepare their employees for traumatic injury emergencies by investing in first aid education.
Here are some frequently asked questions:
The benefits of first aid training include being prepared to respond to problematic situations effectively, potentially saving lives, reducing the severity of injuries, and increasing the chances of a positive outcome.
Yes, there are two types of CPR:
CPR for Adults
This type of CPR is used to revive an adult who has experienced cardiac arrest. The procedure involves compressing the person's chest and blowing air into their lungs to keep their blood flowing and oxygenated.
CPR for Infants and Children
The procedure is similar to adult CPR but with some variations. Moreover, the compression should be done on the center of the chest with two fingers for infants and one hand for children.
Many organizations now offer online first-aid training options. These courses usually include a combination of online modules, quizzes and tests, and in-person skills evaluations. However, ensuring that the online training program is accredited and recognized by a reputable certifying organization is essential.
Each year OSHA releases their Top 10 most frequently cited workplace safety standards. For several years in a row, Fall Protection hazards remain the number one most frequently cited standard. OSHA requires fall protection for employees at elevations of four feet or greater in General Industry workplaces, five feet or greater in shipyards, six feet or greater in construction industry, eight feet or greater in longshoring operations, and when working over dangerous equipment/machinery regardless of the fall distance. Our goal is to help companies assess their risk when working at heights and help them determine the most effective solution to control fall hazards at their workplace.
To select the appropriate fall protection system employers must be educated on the various methods to control fall hazards at their workplace. Ideally, eliminating the fall hazard would provide the most effective solution. However, when this is not possible, determining whether to implement passive fall protection systems or active fall protection systems should be thoroughly assessed.
Passive fall protection systems are stationary; meaning once they are designed/installed the system does not move whether it is being utilized or not. Other than inspecting the system, there is virtually no human interaction for the system to function properly once it is installed. These systems typically consist of guard-rail systems and netting systems. Employers should consider specific OSHA requirements for installing guard-rail and netting systems when considering these passive fall protection options.
Active fall protection systems fall into four categories. 1. Fall arrest 2. Positioning 3. Suspension 4. Retrieval. These systems typically consist of a harness, a lanyard, a lifeline, a shock absorber, and an anchor point that is Capable of supporting at least 5,000 pounds per employee. Prior to using active fall protection systems employees should be trained on the proper use and maintenance of the fall protection equipment. Additionally, the employer must have a rescue plan in the event of a fall prior to utilizing an active fall protection system. Below is a quick explanation of the four categories:
Fall Arrest System
Fall arrest systems are utilized to halt/stop a worker in a free fall from an elevated work area. These systems consist of a harness, a life-line, a shock absorber, and an anchor. It is crucial to properly account for the elevated height of the job-task, the height of the worker, the elongation of the system under the load of a fall, and account for a safety margin when considering this fall protection system.
Positioning System
A positioning device is used in conjunction with the fall arrest system. The worker affixes a positioning device to the fall arrest system and their body harness. This system allows the worker to use both hands to perform job-tasks while the positioning device keeps them safely in place.
Retrieval System
A rescue plan must be apart of your fall protection plan per OSHA requirements. Once a worker experiences a fall, focus on retrieval is essential. Descent/rescue systems help workers quickly self-rescue. Self-retracting lanyard (SRL) or a winch device is an example of a retrieval system.
Suspension System
Suspension systems are utilized to lower and support a worker while their hands are free to perform job-tasks. Workers who perform façade restoration/painting and window washers typically utilize this type of system. The suspension system is used in conjunction with the fall arrest system.
Having a written safety manual and protocols that outline specific requirements for employees and subcontractors who perform job-tasks at elevated heights is essential. Additionally, performing safety audits at regularly scheduled intervals and continuously assessing your workplace for fall hazards and other deficiencies should be a key priority for your health & safety programs success. By taking a proactive approach and understanding various options to keep your workers and workplace free from hazards your company is able to reduce risk, increase morale, and create a strong safety culture.
Please feel free to reach out to us with any questions you or your company may have. Be sure to keep an eye out for our next blog where we will discuss Excavation hazards and steps your company can take to keep your workers safe!
Ryan Worrell
Ash Safety Services, LLC
ryanworrell@ashsafetyservices.com
www.ashsafetyservices.com
Employers should place emphasis on establishing and maintaining a strong safety culture for their organization. Additionally, companies should be regularly assessing their work areas and ensuring they are providing work environments that are free of hazards for their employees and sub-contractors. Employers should also have a through plan in place pertaining to how they will handle an OSHA inspection at their work place. When the compliance officer (CSHO) arrives on your job-site, this is not the time to scramble and "wing-it". In most cases, a member of the management team or an authorized employee representative will be present during the opening conference of an OSHA inspection. The employee representative should be familiar with the company's Safety & Health Program and have access to frequently requested documents. Determining the scope of the inspection is crucial too; determining whether the compliance officer will be conducting a focuses inspection or a comprehensive inspection should also be discussed early in the opening conference phase of the inspection.

When the OSHA compliance officer assesses the workplace, he or she is looking to determine if your company is providing a safe work environment. They are essentially determining whether the company is meeting OSHA's minimum safety requirements. If the answer is no, you can expect the compliance officer will spot these deficiencies and address them. Often times, these deficiencies result in citations and costly fines for the company.
knowing your rights regarding the inspection process and understanding that OSHA has the burden to prove an employer violated an applicable standard to receive a citation is essential. There are certain elements that must be present and documented when a CSHO recommends citation(s).
A hazard must exist: An unsafe work environments, conditions, or processes must be documented by the compliance office during the inspection process.
An OSHA Standard Exists: An applicable OSHA standard must exist in conjunction with the observed workplace hazard observed by the OSHA Compliance Officer. Employers should keep in mind that if an applicable safety standard is not present, the compliance officer can issue a citation under OSHA's General Duty Clause, specifically Section 5(a)(1) of the OSH Act of 1970. In essence, the General Duty Clause requires all employers provide a work environment free from recognized hazards that are causing or are likely to cause death or serious physical harm.
A violation of the OSHA standard occurred: A violation of the applicable standard must be documented and an exposure to the hazard must occur. For example, employees working at elevated heights without fall protection during the inspection process. This would constitute a violation of OSHA's fall protection standard. The employer is exposing their workers to a hazard and there is an applicable OSHA standard violated. Often times, the Compliance Officer will take photographs, get measurements, take notes, and possibly interview workers. It is crucial as the employee representative you document and take notes too!
Employer knowledge: The employer or their representatives, most notably the foreman, supervisor, plant manager, etc. knew or could have known about the hazardous condition(s) and failed to correct them. In most instances OSHA does consider employees in a management role who failed to mitigate/correct the applicable hazard as satisfying the employer knowledge requirement.
As an employer your ultimate goal should be to provide your employees and those on your jobsite/workplace a safe environment. One of the most cost-effective solutions a company can take to minimize risk is to ensure they conduct regular job-site inspections and update their Health & Safety Program as needed. Mock-OSHA inspections are a great way to assess your company's overall health and safety program and ensure it is being implemented appropriately.
***Employers should keep in mind how they handle correcting workplace hazards. Understanding how OSHA defines "competent vs qualified persons" in relation to hazard-mitigation should be carefully assessed. I.e.: some workplace hazards must be corrected by a "qualified person" (Someone with the applicable license/credentials). While other hazards can be mitigated by a "Competent Person" (Someone who is capable of identifying existing hazards and has the authority of the employer to correct the hazard)***
Please feel free to reach out to us with any questions you or your company may have!
Ryan Worrell
Ash Safety Services, LLC
ryanworrell@ashsafetyservices.com